Monday, July 19, 2021
Good morning and welcome to a new week. On the docket:
Monday: UK drops almost all COVID-19 restrictions, i.e, "Freedom Day"
Tuesday: Blue Origin & Jeff Bezos fly to space
Wednesday: National Junk Food Day
Thursday: Weekly unemployment claims
Friday: Opening ceremony for the Tokyo Olympics; Funeral for assassinated Haitian President Jovenel Moïse
+A Quick Pet Olympics Update: We had a family emergency on our small staff this weekend so we're a little behind the eight ball. We'll have an update for you tomorrow (pinky promise) or you can follow us on Instagram to see the matchups today.
⏰🚀 Ready, Set, Go: Today's newsletter takes 4.09 minutes to read. (With the 360° view: 7.13 minutes.)
👇📰 Quick Bits
🍄 A Real-Life Power-Up?
Image: Michael M./Pixabay
🎁 DONUT Headline: A new peer-reviewed study found a single dose of psilocybin in mice led to an immediate increase in brain neuron connections lasting for at least a month.
A single dose of psilocybin – or 'magic mushrooms' – given to mice prompted an immediate and long-lasting increase in connections between their brain neurons, according to a peer-reviewed study published this month in Neuron.
📜 Background… Psilocybin is a naturally occurring psychedelic drug found in some mushrooms. It has long been used in Indigenous rites and ceremonies, and studied by scientists in recent years as a potential treatment for depression.
In the controlled study, researchers found increases in the number of neural connections within 24 hours of administration of psilocybin. These changes were still present when researchers checked back a month later.
"We not only saw a 10% increase in the number of neuronal connections, but also they were on average about 10% larger, so the connections were stronger as well." –Alex Kwan, Yale associate professor and senior author of the paper.
✋ Yes, but… Researchers still aren't sure exactly how the drug works in the brain or how long beneficial results might last beyond one month.
⚖️ On the legal front… Oregon became the first state to legalize psilocybin in November 2020.
The drug remains illegal in the other 49 states but has been decriminalized or legalized for personal use in several cities since May 2019 (including Denver, Oakland, Santa Cruz, Ann Arbor, and D.C.).
📅 Looking ahead… There's proposed legislation to decriminalize psychedelics on a state level in California, New York, and Vermont – but no real movement at the federal level.
🌊 Europe Is Underwater (But Mainly Germany)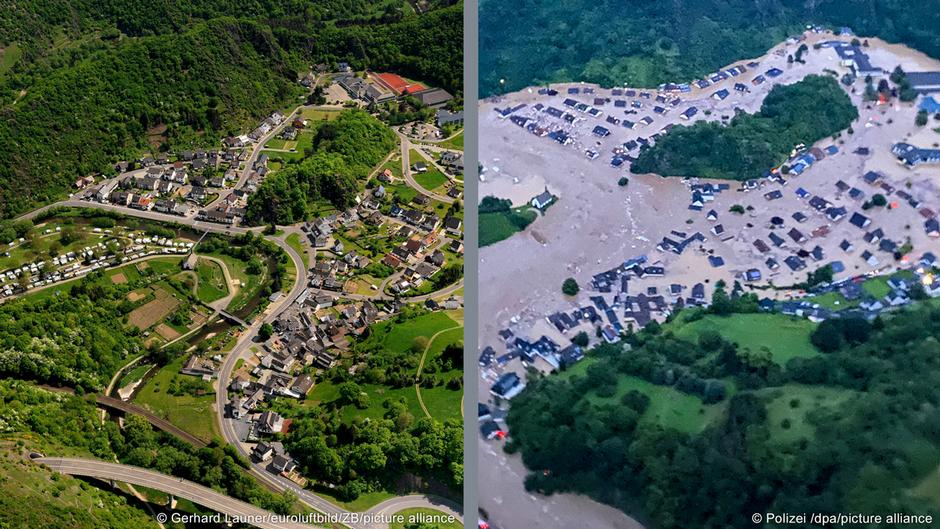 The German town of North Rhine-Westphalia before and after the flooding; Image: DW
🎁 DONUT Headline: The death toll from flooding due to record rainfall in Western Europe continued to rise over the weekend.
The death toll from flooding in western Germany and neighboring Belgium last week climbed to at least 180 people on Sunday.
Tens of thousands of others remained unable to return to their homes or were left without access to power and drinking water after unprecedented rainfall led to widespread flooding.
📸 The big picture… The equivalent of two months of rain fell over a period of one to two days in the region last week, per the AP.
Some German regions reported receiving up to 8.1 inches of rain in just nine hours, according to the European Severe Weather Database.
The heavy rain turned usually minor rivers and streets into raging torrents of water, sweeping away cars and causing houses to collapse.
📝 Meanwhile… Weather scientists said a "monumental failure of the system" in Germany is partially to blame for some of the devastation after they sent authorities a series of forecasts accurately predicting the flood more than a week in advance, per the Sunday Times of London ($).
📅 Looking ahead… The heavy rainfall (and corresponding flooding) moved to southern and eastern Germany and neighboring Austria on Sunday and is expected to continue into Monday.
"Germany is a strong country and we will stand up to this force of nature in the short term—but also in the medium and long term, through policy that pays more regard to nature and the climate than we did in recent years." – German Chancellor Angela Merkel.
🍩 DONUT Holes…
Image: Edmund Simons/Royal Agricultural University
☝️ A cave house in the UK was identified as one of the oldest intact domestic interiors ever found in the country (it's 1,200 years old 😳); archaeologists believe it once was the home of exiled Anglo-Saxon King Eardwulf.
🚗 Lordstown Motors, the EV company that went public via SPAC last year and was targeted by short-seller firm Hindenburg earlier this year, confirmed that it's under DOJ investigation.
🍗 Impossible Foods will launch plant-based chicken nuggets this fall; the announcement came as competitor Beyond Meat launched its "Beyond Chicken Tenders" last week.
⚓ A female sailor became the first woman to complete a U.S. Navy special warfare training program; around 300 sailors attempt the program each year, ~70 finish it.
⛳🏀⚾🎞️🎥 Sports & Entertainment
🔥 The Hot Corner
💬 Heard Through the Grapevine… "No excuses, I messed up. I'm a big sports fan — it's like the guy at the end of the game at the foul line, he misses a free throw, or the guy misses a kick." –Spike Lee after prematurely spilling the beans on the Cannes film festival's top prize – the Palme d'Or – in a moment of confusion after he was asked in French to reveal one of the prizes.
French director Julia Ducournau became the second woman to win the top award in the festival's 74-year history for her movie, Titane.
🔢 Stat(s) of the Day… Roughly 2 out of every 3 condo buildings in the Miami area are more than 30 years old – the point where engineers say owners can no longer delay making critical repairs, per the WSJ.
📖 Worth Your Time… The Untold History of the National Spelling Bee's Big Faint
🗣👂 Dose of Discussion
⚖️ What's Going On With DACA?
Image: FIU
🎁 DONUT Headline: An Obama-era immigration program called DACA was deemed unlawful by a federal judge in response to a lawsuit from several Republican-led states – though the final outcome may still be months away. Was this the right move?
A federal judge in Texas on Friday ruled then-President Obama did not have the legal authority to create the Deferred Action for Childhood Arrivals (DACA) program, which offers protection from deportation to immigrants brought to the U.S. illegally as children.
📜 Background… DACA was created by executive order in 2012, granting "Dreamers" temporary protection from deportation and renewable work permits for two years at a time.
In September 2017, then-AG Jeff Sessions said the Trump administration would wind down the program, prompting lawsuits from several states, immigration advocacy organizations, and DACA recipients to preserve the program.
📸 The big picture… Since 2001, Congress has repeatedly tried – and failed – to pass a legislative solution that would allow Dreamers to live permanently in the U.S.
📅 Looking ahead… It's unclear whether Democrats' planned immigration measures will be permitted by the Senate parliamentarian, who determines which provisions are allowed under budget reconcilation.
🛸🌄📲 Calling from the Future…
🎮 Level Up
Image: University of Maryland
🎁 DONUT Headline: Engineers at the University of Maryland created 3D-printed robotic hand capable of playing and beating Super Mario Bros.
The artificial hand is a soft robot, meaning its movements are powered by air pressure rather than electricity.
Soft robots can stretch, inflate, and deflate with relative ease – making them ideal for applications such as surgical tools, drug delivery devices, and custom prosthetics.
Although the robotic hand is not the first 3D-printed soft robot, it's notable for its "fluidic circuits," which forego conventional electronic microchips for pressure sensors in each of the fingers.
🤗 Daily Dose of Positive
⛸ The Birth of a Legend
Images: Instagram
Aspen Jacobi was only two years old when she first asked her mom to bring her to the skating rink. The catalyst? Disney's Frozen.
Wobbling on her toddler-sized skates in a bright pink helmet, Aspen was hooked after the very first day.
Images: Dakota Jacobi
After years of practice, highlighted by ice shows with thousands of spectators, the now-eight-year-old South Carolina native can glide and spin on the ice with ease.
The ultimate goal: To one day join the U.S. Olympic team.
💡 Dose of Knowledge
📺 The Wayback Machine
In what year did the first episode of The Simpsons air?
A) 2000
B) 1977
C) 1995
D) 1989
(keep scrolling for the answer)
🍩 Share The DONUT
Access exclusive rewards and even an all-expenses-paid round trip to Austin, TX, just for sharing this newsletter.
Simply:
1. Copy your unique referral link.👇
2. Post said link in the fam group chat, DM a coworker or two, write it in frosting on your birthday cake, etc.
3. Watch the rewards roll in.
Ambassador Rewards and Progress →
💡 Dose of Knowledge Answer
D) 1989
The longest-running primetime scripted show first debuted in 1989 with a Christmas special called "Simpsons Roasting on an Open Fire."
It was recently renewed for seasons 33 and 34.
🍩 Daily Sprinkle
"Faced with the choice between changing one's mind and proving that there is no need to do so, almost everyone opts for the latter."
–John Kenneth Galbraith (1908-2006), Harvard Professor of Economics