Thursday, July 22 2021
Good morning and welcome to Thursday.
⏰🚀 Ready, Set, Go: Today's newsletter takes 4.56 minutes to read. (With the 360° view: 7.96 minutes.)
👇📰 Quick Bits
🤖🚕 Robotaxis: Coming To A City Near You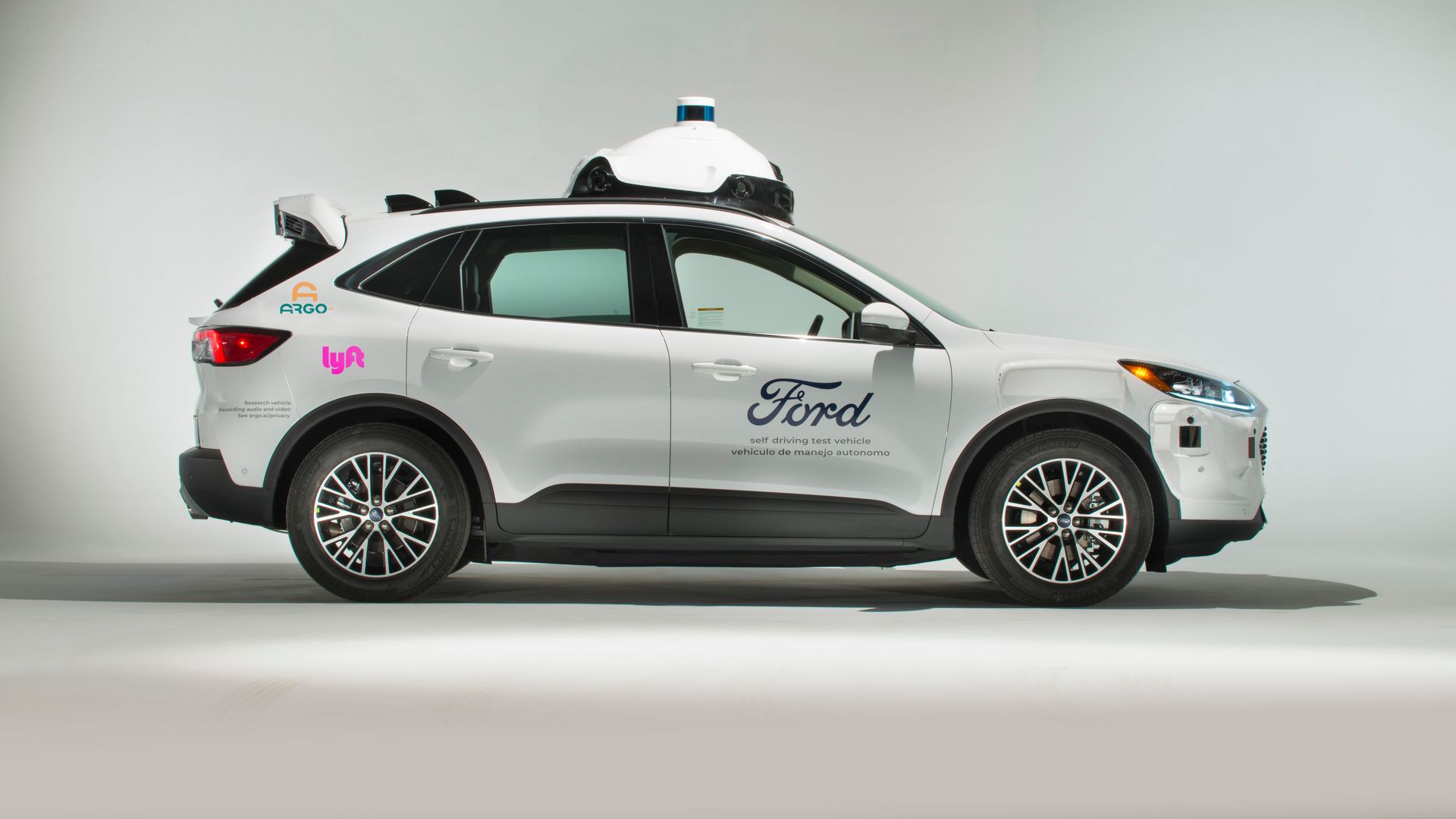 Image: Argo AI
🎁 DONUT Headline: Lyft is partnering with Argo AI – an autonomous vehicle startup backed by Ford and Volkswagen – to offer autonomous taxis to ride-hailing customers in Miami by the end of the year and Austin by 2022.
Lyft customers in Miami will be able to request an autonomous taxi from a Ford and Volkswagen-backed startup called Argo AI by the end of the year, the companies announced yesterday.
⚙️ How it works… If Lyft customers are within a defined geographic area, they'll be offered the choice to take an autonomous taxi to their destination. It'll still include two safety drivers in the front seats.
Ford will provide the vehicles, Argo AI will supply the autonomous technology, and Lyft will bring in customers through its ride-hailing network.
Argo AI's system is Level 4 autonomous, meaning it can operate without the need for a human behind the wheel.
But until legislation and infrastructure evolves, it can only do so within a limited area (usually an urban environment where top speeds reach an average of 30mph). This is known as geofencing.
The companies said the initial agreement lays the groundwork for deploying at least 1,000 autonomous vehicles across multiple markets over the next five years.
📸 The big picture… The AV ride-hailing industry has narrowed to roughly half-a-dozen major players, including Argo AI.
Google subsidiary Waymo has been offering rides in its fully-driverless vehicles in the Phoenix, AZ, area since 2017.
General Motors subsidiary Cruise, also backed by SoftBank Vision Fund, Microsoft, and Honda, begins production of its fully autonomous Origin shuttles sometime next year.
Other companies in the industry include Tesla, Motional – a joint venture between Hyundai and auto supplier Aptiv – and Amazon-backed Zoox.
👁️ Looking ahead… Argo AI and Lyft plan to bring the autonomous ride-hailing service to DONUT HQ and Austin, TX, next year.
🇬🇧 Liverpool Loses Its Heritage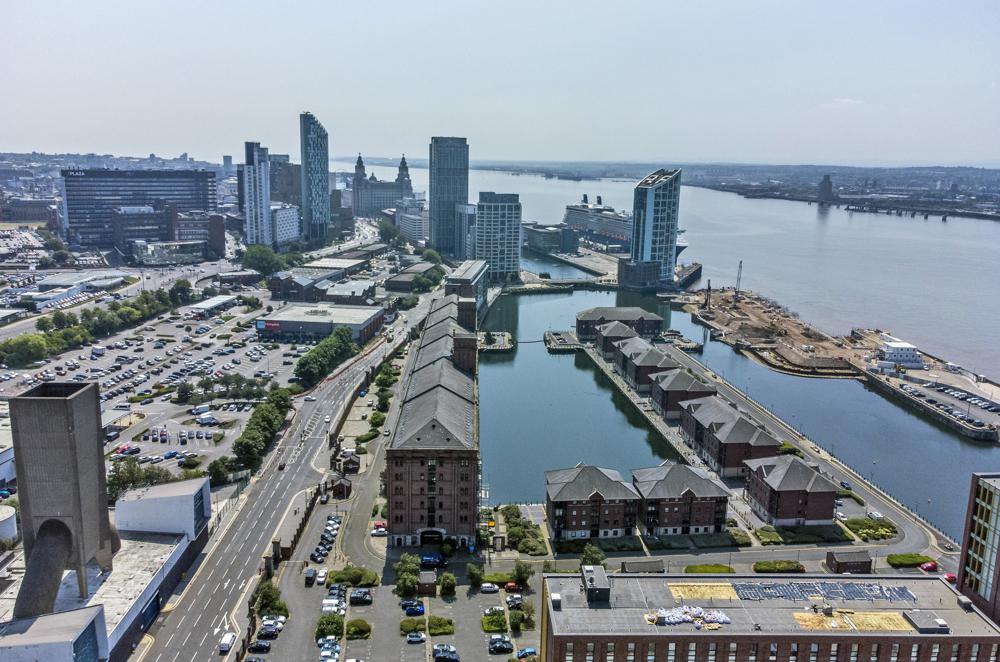 An aerial view of Liverpool's waterfront; Source: Peter Byrne/PA via AP
🎁 DONUT Headline: The English city of Liverpool became just the third location in 43 years to be stripped of its World Heritage status due to recent construction in the city and on its waterfront – much to the dismay of civic leaders.
The English city of Liverpool was stripped of its World Heritage status by the United Nations Educational, Scientific, and Cultural Organization (UNESCO) on Wednesday.
In a secret ballot at a meeting in China, the World Heritage Committee voted to remove the designation from Liverpool "due to the irreversible loss of attributes conveying the outstanding universal value of the property," referring to developments in the city center and on its waterfront it considered "detrimental to the site's authenticity and integrity."
Translation: There's too much development and construction.
📜 Background: World Heritage status is reserved by UNESCO for "places on Earth that are of outstanding universal value to humanity" and should be "protected for future generations to appreciate and enjoy." It currently features 1,120 sites from all around the world, including the Great Wall of China, the Taj Mahal, and the Leaning Tower of Pisa.
Liverpool was initially added to the list in 2004 "in recognition of its role as one of the world's most important ports during the 18th and 19th centuries and for its architectural beauty," reports Reuters.
Liverpool becomes only the third site to lose its World Heritage status since the list began in 1978. The others were Oman's Arabian Oryx Sanctuary in 2007 and the Dresden Elbe Valley in Germany in 2009.
👎 Not everyone agrees with the move… Liverpool Mayor Joanne Anderson called the decision "incomprehensible." Steve Rotheram, mayor of the wider Liverpool region, said it was "a retrograde step that does not reflect the reality of what is happening on the ground."
👁️ Looking ahead… Mayor Anderson said she would work with the UK government to examine whether the city could appeal UNESCO's decision.
🍩 DONUT Holes…
🔥 The Hot Corner
💬 Heard Through the Grapevine… "When I got married and had kids, my wife basically encouraged that it was not a smart family decision to be heading into space when we have young children, so I ended up selling my ticket back to Virgin Galactic. And I was supposed to be on the next flight. But I will not be on the next flight. But at some point I'm going to space." –Ashton Kutcher, in a recent interview with Cheddar News.
The actor/investor was Virgin Galactic's 500th paying customer when he bought a ticket in 2012. Since then, a lot has changed – namely, Kutcher married That 70's Show costar Mila Kunis and had two children.
🔢 Stat of the Day… The delta variant now comprises 83% of all sequenced U.S. COVID-19 cases, according to the CDC.
📖 Worth Your Time… Is Kanoa Igarashi the LeBron of Surfing?
🗣👂 Dose of Discussion
🇮🇱🇵🇸🍨 Israel, Palestine, and Ben & Jerry's
A map showing Israeli settlements in the West Bank & East Jerusalem as of 2016; Source: Vox
🎁 DONUT Headline: Ben & Jerry's said it will stop selling its products in Israeli settlements located in the West Bank and East Jerusalem, prompting immediate pushback from Israel's new government. What's the scoop?
Ben & Jerry's on Monday said it would stop selling its ice cream products in Israeli settlements in the West Bank and East Jerusalem (but continue to provide ice cream in Israel "through a different arrangement").
The ice cream maker made the decision to not renew its contract in that area because "it is inconsistent with our values for Ben & Jerry's ice cream to be sold in the Occupied Palestinian Territory."
🍨 The scoop… Ben & Jerry's was purchased by consumer goods conglomerate Unilever in 2000.
As a condition of the sale, founders Ben Cohen and Jerry Greenfield received two provisions that created an independent board focused on the company's social goals and required spending on those social goals to grow faster than overall sales.
Ben & Jerry's has spoken up for progressive social causes in the past, including Occupy Wall Street and Black Lives Matter, and supported Democratic political candidates.
🗣️ Public response… New Israeli PM Naftali Bennett called the move a "clearly anti-Israel step" that was "morally wrong," saying it would have "serious consequences, legal and otherwise."
The State Department declined to comment directly on Ben & Jerry's decision, but said the U.S. "firmly reject[s]" the boycott movement against Israel as it "unfairly singles out" the country.
Many kosher grocery stores across the country have decided to pull the brand's products from their shelves.
From the BDS movement: "We welcome Ben & Jerry's decision as a decisive step towards ending the company's complicity in Israel's occupation and violations of Palestinian rights… [the company] is finally bringing its policy on Israel's regime of oppression against Palestinians in line with its progressive positions on Black Lives Matter and other justice struggles."
📣🗣💬 This Week's Poll Responses
Yes – "It would be amazing for my children and grandkids to be able to have me speak to them after I'm gone. I would love to have that from my loved ones that have passed on."
No – "Technology is a wonderful tool, but we cannot lose our humanity to it. We need to live our lives in reality. We need to cherish the legacies of those who have gone before us as legacies, and not recreate them into something they never were."
Unsure – "It depends on who creates the "content" that my image would be saying and doing. I wouldn't mind if it was my own words and actions when alive, but who approves and authenticates that?"
+Note on Sample Size: We received 627 responses. 👏🥳 Some may have been lightly edited for grammar or clarity.
🛸🌄📲 Calling from the Future…
☔ Rain, Rain, (Don't) Go Away
Image: Depositphotos.com
🎁 DONUT Headline: The UAE is creating artificial rain to beat the Dubai heat; the city regularly experiences temperatures of more than 120℉.
According to the UAE's National Center of Meteorology, the much-needed rain – which is occurring in the form of heavy downpours – was precipitated (pun intended) by cloud seeding operations, in which drones apply electric shocks to clouds.
When hit with an electrical pulse, water drops merge and stick "like dry hair to a comb."
Although there are three different methods of cloud seeding, the electrical pulse tactic is preferred since it does not involve the introduction of chemicals to the atmosphere.
The UAE, which receives an average of just four inches of rain a year, invested $15 million in nine different rain-making projects back in 2017 in response to the country's sinking water table.
🤗 Daily Dose of Positive
🕺💃 Stand Here for Dance Party
Image: Improv Everywhere
Most of us have become accustomed to seeing social distance reminders in public areas. So, when a team from Improv Everywhere placed this sign ☝️ in a park in New York City, many people walked by without giving it a second glance.
Little did they know the fun they were missing.
🎭 Wait, Improv Who?… Improv Everywhere is a comedy collective group that stages "positive pranks" around New York City to delight and surprise passing strangers.
For their first large-scale event since the pandemic halted operations last year, they partnered with The Museum of The City of New York as a part of their "New York, New Music" series.
💡 Dose of Knowledge
🎰 Roll The Dice
Which of the following sides on a standard six-sided die does not have a dot located directly in the middle?
A) One
B) Four
C) Three
D) Five
(keep scrolling for the answer)
🍩 Share The DONUT
Access exclusive rewards and even an all-expenses-paid round trip to Austin, TX, just for sharing this newsletter.
Simply:

1. Copy your unique referral link.👇
2. Email said link to a friend or two, drop it in your group chat, print it on a coffee mug and sell it on Etsy, etc.
3. Watch the rewards roll in.
Ambassador Rewards and Progress →
💡 Dose of Knowledge Answer
B) Four
The even-numbered sides of a standard six-sided die all do not have a dot located directly in the middle, while all the odd-numbered sides do. Check it out.
🍩 Daily Sprinkle
"I always eat dessert first, because life is so uncertain."
–Arthur Murray (1895-1991), American ballroom dancer and entrepreneur