Thursday, August 19, 2021
Good morning and welcome to Thursday.
⏰🚀 Ready, Set, Go: Today's newsletter takes 4.55 minutes to read. (With the 360° view: +3.04 minutes.)
👇📰 Quick Bits
🕵️ A Study in Emojis
Image: Giphy
Before we begin, the necessary caveats: 1) Gauging public sentiment at scale is extraordinarily difficult and 2) The report only analyzes emojis used in public posts; texting and messaging apps were not included – but this analysis of over 20 billion data points can help us glean knowledge on how people use emojis and emoticons to express themselves online.
How We Feeling, Internet?
First, let's take a look at 2020:
Images: Brandwatch, BuzzSumo, & Falcon.io
And now, 2021:
Top 5 Answers Are on the Board… 1)😭, 2) 😂, 3) ✨, 4) ❤️, and 5) 🥺 are the most-used emojis so far in 2021.
The loudly crying face emoji was the second most shared emoji in 2020 (😭), and the face with tears of joy was #1 (😂).
✨, ❤️, 🥺, and 🤣 have remained as #3, #4, #5, and #6 respectively for two years straight.
The use of🔥, 🥰, and 🙏 increased in 2021, pushing 😊 off the top 10 list.
Zoom out… There are 3,353 or 3,521 total emojis (the total depends on which source is used), and more get added fairly regularly.
Statista reported 334 new emojis were released last year, a process overseen by the Unicode Consortium, which provides a unique code for every character, in every language, in every program, on every platform, so users and programmers can develop content in their native language.
On the horizon: Per Adobe's 2021 World Emoji Day report, the majority of global emoji users agree that emojis will be better developed and more progressive in the next five years.
Seventy-six of respondents agree that emojis are an important communication tool for creating unity, respect, and understanding of one another. Another 70% agree that inclusive emoji can help spark positive conversations about important cultural and societal issues.
+Bonus: Sending Smiley Emojis? They Now Mean Different Things to Different People
🪙 The Dogecoin Foundation
Image: CoinTelegraph
🎁 DONUT Headline: Ten years ago, the word 'doge' evoked thoughts of a cute meme featuring a Shiba Inu dog. Today, it's the name behind the seventh-largest cryptocurrency in the world – and barely a day goes by without it grabbing headlines next to (or because of) names like Elon Musk and Mark Cuban.
Most recently, the Dogecoin Foundation, which boasts several well-known board members and advisors, was re-established.
🏢 Wait, there's a foundation?… The Dogecoin Foundation is a nonprofit that aims to support the cryptocurrency – worth ~$0.30 per coin as of print – with advocacy and trademark protection. It was founded in 2014 but became inactive over time and eventually dissolved.
According to the newly re-formed foundation's website, members of the group will meet monthly to discuss issues relating to the Dogecoin project. Its Dogecoin Manifesto contains four core values: being useful, personable, welcoming, and reliable.
New members to the group include Dogecoin co-creator Billy Markus, Ethereum founder Vitalik Buterin, and Elon Musk's legal and financial advisor Jared Birchall.
✋ Yes, but… "Well I think there's a difference between Dogecoin and USDC, or Bitcoin, or Ethereum… When you speculate on something like Dogecoin, that's no different than going to Las Vegas and putting your money on red or black. It's pure speculation. And maybe you should consider it entertainment, because there's no inherent value in it other than what other people want to do as they speculate." –Kevin O'Leary on CNBC.
👁️ Looking ahead… Dogecoin to $1…? 🚀🌕
🔥🌯 Sponsored by Mr. Tortilla 💸🔥
🌮 Let's Talk Tacos
Our friends at Mr. Tortilla are on a mission to change the way people think about tacos – and we're here to taco 'bout it.
👋 Say 'Goodbye' to Post-Taco Guilt
Mr. Tortilla is home to the world's first 1 carb, 15 calorie taco tortilla. They've poured years of experience into developing an outer shell that is just the right size to fit all your taco ingredients and delivers the perfect crunch when fried.
This one-of-a-kind 1-carb tortilla is perfect for the low-carb/keto community. It comes in four different flavors:
Multigrain
Pico de Gallo
Spicy 3 Chiles
Savory Spinach
Spice things up with healthier and tastier shells from Mr. Tortilla. And, it's for a good cause: 10% of their net profits are donated to charity.
Speaking of 10% – use offer code DONUT10 for 10% off site-wide.
🔥 The Hot Corner
Image: Timmerman/LOFAR; a supermassive black hole at the center of a galaxy, seen faintly in the center, shoots out jets of material across space.
💬 Heard Through the Grapevine… "I walked around with a huge smile on my face for the rest of the day, because I felt so proud that I was able to make these images and be able to see something nobody had ever seen before." –Dr. Leah Morabito of Durham University in the U.K., commenting on a project she led that captured some of the most detailed images ever seen of galaxies in deep space.
🔢 Stat(s) of the Day… A data breach exposed the personal information of more than 47 million current, former, and prospective T-Mobile customers.
📖 Worth Your Time… The Sopranos of Berlin: A Brutal Crime Family and a Billion Dollar Jewel Heist
🗣👂 Dose of Discussion
💉 The One About Boosters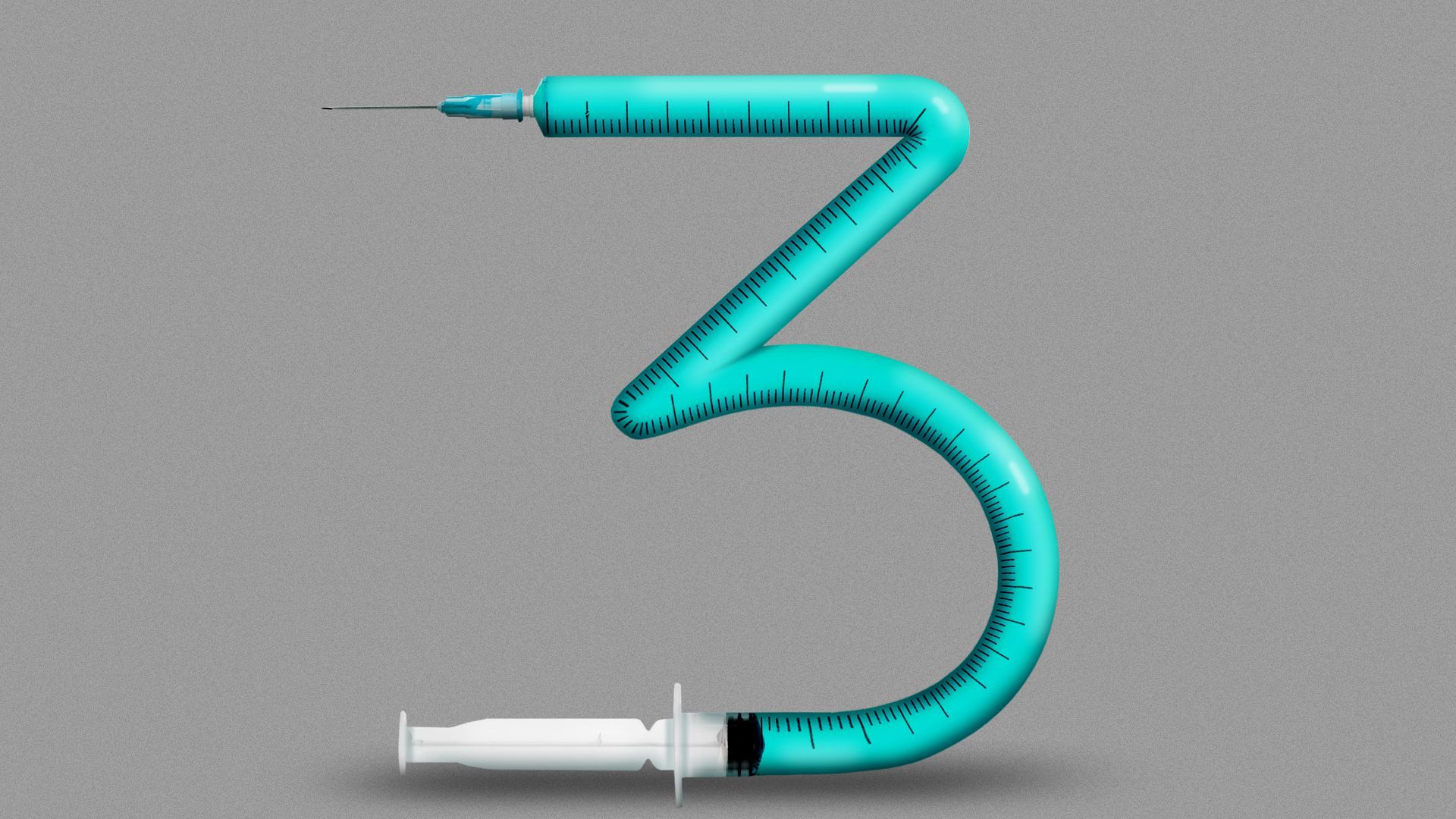 Image: Annelise Capossela/Axios
🎁 DONUT Headline: Top U.S. health officials announced plans to offer COVID-19 booster shots to all Americans 18 and older who received the Moderna or Pfizer vaccines beginning the week of September 20.
The plan, outlined by Surgeon General Vivek Murthy, calls for the third dose to be administered roughly eight months after people get their second dose.
It marks a shift from previous comments made by U.S. health officials, who said in recent months that fully vaccinated Americans did not need booster shots at this time.
It also comes as early data from an observational study in Israel found a Pfizer booster shot given to people aged 60 and above reduced the risk of infection by 86% (and the risk of severe infection by 92%).
🤿 A deeper dive… Murthy cited emerging evidence indicating the vaccines lose some of their protection against mild and moderate infections over time, especially when dealing with the Delta variant.
​​The third dose will be the exact same as the second from a standard two-dose regimen, sources told the WSJ. People are recommended to get the same brand as their first two shots.
Health officials said recipients of the one-dose Johnson & Johnson vaccine will also most likely require a booster shot, but declined to make a formal recommendation until seeing results from a clinical trial that provided participants with two J&J doses.
✋ Yes, but… The director of the World Health Organization objected to the U.S. plan, arguing the vaccines should be directed towards poor countries that don't have enough doses for their initial round of shots.
Earlier this month, the organization called for a temporary moratorium on booster shots until at least 10% of all the world's countries are vaccinated.
France, Britain, Germany, Israel, Sweden, Russia, and others have also announced plans to administer booster shots domestically, citing the risk posed by variants.
👁️ Looking ahead… The U.S.' overall plan for booster shots is still dependent on FDA emergency use authorization of a third dose for the general public and a review by a CDC advisory panel.
📣🗣💬 This Week's Poll Responses
Yes – "While machines are fallible they still operate within predetermined bounds. Humans are complex and proven to be dangerous on the road. The less humans we have controlling vehicles the safer we will be."
No – "I work in engineering at a building automation company, and just seeing how often there are corner case bugs, regardless of how much testing is done, makes we worry about having a fully automated vehicle with no human backup. I know we can read the statistics and look and see that intellectually it may be less accident prone than human drivers, but it's just hard to make the leap to comfort."
Unsure – "The only reason I'm hesitant is because there's so much I don't know about self-driving taxis, or even these companies themselves. But, I assume that if they became widely available, I would just naturally through information-osmosis know as much about them as I do Lyft or Uber. And IF that were the case, then sure, I wouldn't be against it."
+Note on Sample Size: We received 1,103 responses. 👏🥳 Some may have been lightly edited for grammar or clarity.
🛸🌄📲 Calling from the Future…
🚀 Cleanup Crew
Image: Aurora Propulsion Technologies
🎁 DONUT Headline: A Finnish aerospace company is poised to debut its space junk removal technology in low earth orbit later this year (just like a high school cafeteria after lunch period, space is in dire need of a janitor).
Space junk is defined as any human-generated object in space that is longer functional – and there's a lot of it. The U.S. Department of Defense keeps track of ~27,000 pieces of orbital debris, but it's estimated there are millions of pieces of space junk floating in low Earth orbit (LEO).
As private space companies like SpaceX and Blue Origin continue to drive down the cost of launches, the amount of trash in space is expected to accumulate at accelerating rates.
Enter Aurora Propulsion Technologies: In a few months, the company will send its AuroraSat-1 CubeSat into LEO for its first in-space demonstration.
Equipped with a combination of thrusters and "Plasma Brakes," Aurora's new tech will be able to stabilize satellites as well as de-orbit them – that is, send them crashing back down to Earth.
🤗 Daily Dose of Positive
🍃 Lily's Pad
Images: Lily's Pad
In December 2017, three-year-old Lily Taylor was taken to the hospital with what her parents thought was a severe ear infection.
After a host of tests and a night in the ER, her parents were shocked to hear their daughter had leukemia.
Over the next two and a half years, Lily fought for her life, undergoing intense chemotherapy treatments and operations. All the while, she just wanted to be a normal kid.
Now, Lily is cancer free, and the seven year old is creating a space she wished was there when she was in treatment – Lily's Pad, the first ever hyper-cleaned indoor playspace for immunocompromised kids.
💡 Dose of Knowledge
🧠 State Of Mind
Can you name this U.S. state? ☝️
(keep scrolling for the answer)
🍩 Share The DONUT
Access exclusive rewards and even an all-expenses-paid round trip to Austin, TX, just for sharing this newsletter.
Simply:

1. Copy your unique referral link.👇
2. Post said link on social media, drop it in your group chat, incorporate it into your social media handle, etc.
3. Watch the rewards roll in.
Ambassador Rewards and Progress →
💡 Dose of Knowledge Answer
🍩 Daily Sprinkle
"Imagination is the beginning of creation."
–George Bernard Shaw (1856-1950)