Wednesday, September 1, 2021
Good morning and welcome to September.
⏰🚀 Ready, Set, Go: Today's newsletter takes 4.29 minutes to read. (With the 360° view: +3.19 minutes.)
👇📰 Quick Bits
📱 App Store Regulation
Image: The Verge
🎁 DONUT Headline: South Korea's National Assembly approved legislation banning app store operators like Google and Apple from forcing developers to use their in-app payment systems.
South Korea is the first country in the world to pass such a bill, which will become law once it is signed by President Moon Jae-in (whose party backed the legislation).
Companies failing to comply with the new regulation could be fined up to 3% of their revenue in South Korea.
🤿 A deeper dive… As it currently stands, Apple and Google require all app developers to use their in-app purchasing system – instead of outside payment processors – for which they receive a commission of up to 30%.
The tech giants are the only two major players in the global app market. Over 75% of all mobile-app downloads in Q2 were through the Google Play store, while 65% of global spending on in-app purchases went through the App Store.
⚖️ Recent scrutiny… Concerns over Apple and Google's monopolistic position in the mobile app industry have prompted antitrust lawsuits from regulators in the U.S. and EU.
Fortnite-maker Epic Games rolled out its own in-app payment system last year as part of an effort to bypass Apple and Google's commission, which resulted in the Fortnite being removed from both app stores. Epic Games responded by suing both companies.
👁️ Looking ahead… U.S. lawmakers this month introduced a bipartisan bill in the Senate that would ban app stores from forcing developers to use the store's payment systems.
It would also bar companies from punishing developers that offer lower prices elsewhere, and prevent them from using non-public data from their stores to build competing products.
⚖️ Move Over Milk Crate Challenge…
Image: Naked Food Magazine
🎁 DONUT Headline: There's a new trend in town: filing false advertising food and beverage lawsuits. More were filed in 2020 than ever before, even with the pandemic.
🏕️ Most of these suits fall into one of three camps… 1) artificial flavor-related claims, 2) "all-natural" related claims, or 3) added sugar/health-related claims.
🍭 First: the artificial flavor of the week… These claims allege defendants' products contain flavoring ingredients that aren't derived from the originally advertised flavor.
But these types of suits are increasingly being dismissed in the early stages of litigation for failure to allege a viable claim.
🌲 Second: the au naturale… These types of suits are very en vogue, much like influencers challenging each other to boxing matches.
Per Pooja S. Nair from advisory firm Ervin Cohen & Jessup, "Without further guidance from the FDA [on what qualifies as 'natural'], it is likely that class certifications and settlements will continue."
🍬 Finally: the sugar rush… Attorneys are flocking to California just like prospectors of old.
It probably should be noted that in the Kellogg's class-action settlement, the average cash award is predicted to be $16.09. The attorneys walk away with a cool $3.9 million.
👁️ Looking ahead… Both the FTC and FDA have recently indicated that regulating labeling, standards of identity, and advertising are a priority.
Stay tuned.
🍩 DONUT Holes…
Image: Bud Light
🔥💸 Sponsored by Alternative Assets 📈💰
"I can show you the world… of alts."
That's what Alternative Assets would say if they had a magic carpet. Sadly, they don't, but their 100% free newsletter is a pretty close second.
Reading is magical when you can take a journey and explore the wide world of unique investment options.
Alternative Assets uses in-house genies to grant all of your investment wishes. Love artwork or watches? Through the mystical power of research, you'll get insightful recommendations to grow your portfolio.
Not magic, you say? Well, their picks are consistently outperforming the collectible markets so I'm not sure how you explain that, other than sorcery.
🔥 The Hot Corner
💬 Heard Through the Grapevine… "We had hoped that when Mike stepped down from the host position at Jeopardy! it would have minimized the disruption and internal difficulties we have all experienced these last few weeks. That clearly has not happened." – from an internal Sony Pictures memo to staff.
Mike Richards is now out as executive producer of Jeopardy! and Wheel of Fortune.
🔢 Stat of the Day… COVID-19 hospitalizations nationwide crossed above 100,000 last week for the second time in the pandemic.
📖 Worth Your Time… How Lord of the Rings changed big-screen battles forever
🗣👂 Dose of Discussion
🇦🇫 A Look Back at Afghanistan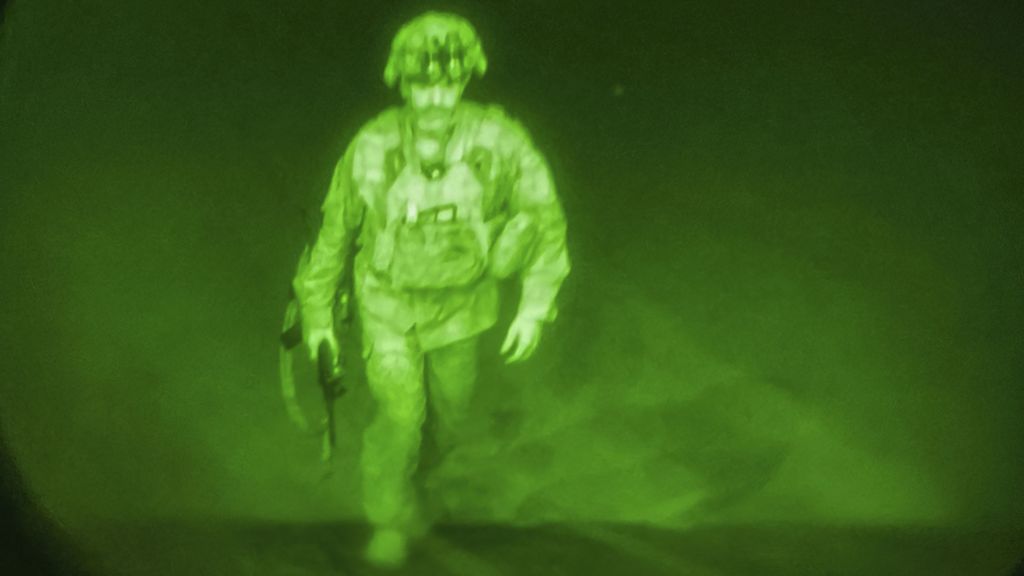 Army Maj. Gen. Chris Donahue boards the last plane out of Kabul; Image: Twitter
🎁 DONUT Headline: The last U.S. soldier departed Afghanistan on Monday, bringing an end to the longest war in American history.
👀 Looking back… The war in Afghanistan lasted 7,267 days, or nearly 20 years. One in four Americans today weren't alive when it started.
Approximately 66,000 Afghan military and police, 47,245 Afghan civilians, and 51,191 Taliban fighters died in the war, in addition to 2,461 U.S. troops, 3,846 U.S. contractors, 444 aid workers, and 72 journalists.
The war is estimated to have directly cost over $2 trillion from 2001 to 2021 – nearly all financed by debt.
Experts predict the U.S. will eventually pay up to $6.5 trillion in interest by 2050 and dole out another $2+ trillion towards health care, disability, and other costs for ~4 million veterans from Afghanistan and Iraq.
⏩ Looking ahead… The U.S. and 97 other countries announced an agreement with the Taliban on Sunday allowing all foreign nationals and any Afghan citizens with travel authorization from one of the 98 countries to safely leave the country after August 31.
More than 40% of Afghanistan's GDP came from international aid, much of which is now frozen, and 90% of the country lives on less than $2 per day. Officials have warned of a humanitarian crisis, depending on near-term decisions by the Taliban government.
📣🗣💬 This Week's Poll Question
Background: The city of Chicago has filed separate lawsuits against Grubhub and DoorDash alleging the third-party delivery companies "engaged in deceptive practices to prey on its affiliated restaurants."
The lawsuits contain a multitude of allegations, including that the companies use bait-and-switch tactics to fool customers into thinking they'll be paying lower fees compared to what they're ultimately charged.
Our question to you: Do the additional fees from food delivery apps stop you from using them ?
+Note: Results and the most thoughtful responses will be featured in tomorrow's newsletter.
🛸🌄📲 Calling from the Future…
🥽🛰️ Spaced Out
Image: NASA
🎁 DONUT Headline: Felix & Paul Studios is creating an immersive spacewalk experience in virtual reality using footage from outside the International Space Station.
Unless your name has nine zeroes next to it, odds are you're probably not headed to space anytime soon – and even those who can afford the trip are limited to peering out into space through tiny spaceship windows.
To obtain the necessary footage, Felix & Paul Studios customized a virtual reality camera that can take 3D, 360-degree images at 8K resolution and attached it to the Canadarm2 robot outside the ISS.
🤗 Daily Dose of Positive
✈️🪂 The Skydiving Centenarian
Images: FlyingMag
Tom Rice recently celebrated his 100th birthday, soaring into a new century doing one of his favorite things – jumping out of a plane.
Tom enrolled in paratrooper school after Pearl Harbor was bombed and went on to join one of the most demanding and elite branches of infantry of the time.
The former WWII paratrooper has jumped multiple times since leaving the military. Tom dedicated his most recent jump to the 101st Airborne Division and 'The 4 Colonels of Carentan.'
💡 Dose of Knowledge
🐈 The Cat's Out Of The Bag
What is the largest member of the cat family?
A) Tiger
B) Cheetah
C) Jaguar
D) Lion
(keep scrolling for the answer)
🍩 Share The DONUT
Access exclusive rewards and even an all-expenses-paid round trip to Austin, TX, just for sharing this newsletter.
Simply:

1. Copy your unique referral link.👇
2. Post said link on social media, drop it in your group chat, send out a mass text, etc.
3. Watch the rewards roll in.
Ambassador Rewards and Progress →
💡 Dose of Knowledge Answer
A) Tiger
Tigers are the largest cat species in the world and the third-largest land carnivore (behind polar bears and brown bears). They can grow to nearly 11 feet long and weigh up to 930 pounds.
🍩 Daily Sprinkle
"True wealth is of the heart, not of the purse."
-Og Mandino, (1923-1996)