Thursday, September 2, 2021
Good morning and welcome to Thursday.
⏰🚀 Ready, Set, Go: Today's newsletter takes 4.99 minutes to read. (With the 360° view: +3.64 minutes.)
👇📰 Quick Bits
🏈 Fake Love
Bishop Sycamore ex-Head Coach Roy Johnson; Image: Awful Announcing
🎁 DONUT Headline: A fake high school football team conned its way into an ESPN primetime game after claiming to have several high-profile college recruits (and ended up losing 58-0).
📸 Picture this: You settle into your couch on a lazy Sunday afternoon eager for some football.
🙅 We're not making this up… Bishop Sycamore is described as an online charter school in Columbus, Ohio. But it appears the school might not be real.
📺 So, how'd they end up on ESPN ?… The network said the game was booked by Paragon Marketing, which has partnered with ESPN in the past for multiple high school events across different sports.
In reality, the Bishop Sycamore roster reportedly includes postgraduate players as old as 19 or 20, some of whom are alleged to have played in junior college. The team hasn't won a game since launching in 2019, while getting outscored 342-49.
📅 Worst of all… Bishop Sycamore had played a game less than 48 hours earlier, raising obvious health and safety concerns. Paragon said it was unaware of this fact, and would have canceled Sunday's game if the company had known.
☢️ The fallout… After Sunday's contest, Ohio Gov. Mike DeWine called on the Ohio Department of Education to investigate Bishop Sycamore. All future opponents also canceled their upcoming games.
In other words, it's looking like Bishop Sycamore could soon become Bishop Syca-no more.
+Bonus Read: Bishop Sycamore Football Interview: Former Player Paints Scary Picture
⌚ WATCH Us All Get…
Image: Giphy
🎁 DONUT Headline: Apple is reportedly working on new health-related features for the Apple Watch, including a tool to tell users when their blood pressure is increasing and a thermometer to help with fertility planning.
🤔 Zoom out… Consumers are on track to spend $81 billion on wearable devices in 2021, an 18% increase from last year, according to Gartner research.
Google completed a $2.1 billion deal this year to purchase the fitness-tracking company Fitbit.
Oura, a small manufacturer of rings that track sleep quality, raised $100 million in May at an $800-million valuation.
Whoop, a startup that makes wearable health trackers, raised $200 million in a round led by SoftBank earlier this week. The company is valued at $3.6 billion, and has signed deals with the NFL and PGA to provide wristbands for the athletes.
And, because of course they did, Amazon recently barged into the sector with its own fitness tracker and app called Halo.
👁️ Looking ahead… Apple is expected to release the Apple Watch Series 7 later this month – but it probably won't have the aforementioned features.
CEO Tim Cook has said he wants Apple's legacy to be in the areas of health and wellness. Beyond next year, the company reportedly wants its smartwatch to be able to detect sleep apnea, provide medical guidance when it senses low blood oxygen levels, and, maybe one day, spot diabetes.
📝 The takeaway: Odds are, they won't be alone.
🍩 DONUT Holes…
Image: LuxQue Media / Mike Aghachi
+Bonus: 'Seinfeld' is officially coming to Netflix.
🔥💸 Sponsored by KING KANINE 🐕🐩
🎶 Keep running. Keep smiling.
We firmly believe all dogs deserve a fighting chance. So does Dogs, Rock & Roll, KING KANINE's registered 501c3 nonprofit organization, which provides dogs with paralysis or missing limbs with mobility options.
Lester was the first pup to get a wheelchair with the help of Dogs, Rock & Roll. He couldn't use his back legs and just watched as other dogs ran around and played. He would try to drag his little body to keep up, but you could tell he wanted to do more.
Dogs, Rock & Roll provided the funds for Lester's new wheelchair.
Now, his true personality shines and he's such a goofball! He likes to wear funny costumes, play with toys, and chase feet.
How can you help ?
When you purchase anything from KING KANINE for your dog, a percentage goes to Dogs, Rock & Roll – and thus, a dog in need.
KING KANINE is dedicated to all things pet wellness. Their products are made by animal lovers, many of whom have their own rescue pets that use their products. Complete symbiosis.
Get your dog something they'll love and help another dog who needs it. Use code "DONUT15" at checkout for 15% off anything in-store.
🔥 The Hot Corner
🔢 Stat(s) of the Day… Ever wonder how much music platforms pay per stream ? Check out the chart our friends at Alternative Assets put together. ☝️
💬 Heard Through the Grapevine… "The good news is that we have been able to minimize the amount of casualties once we have started having growing amount of disasters: heatwaves, flooding events, drought … " – Petteri Taalas, the World Meteorological Organization's secretary-general, at a news conference yesterday.
Translation: Weather disasters have become much more frequent in recent decades, but are killing fewer people on average.
📖 Worth Your Time… Ben Dugan Works for CVS. His Job Is Battling a $45 Billion Crime Spree.
🗣👂 Dose of Discussion
Over the next two days, we'll be examining a pair of laws in Texas that have emerged as flashpoints for the U.S. political landscape as a whole – and they're right in our backyard (DONUT HQ is in Austin, TX).
🚫 Texas Abortion Ban
Image: Jose Luis Magana/AP Photo
🎁 DONUT Headline: A new Texas law banning abortion after roughly six weeks of pregnancy took effect yesterday after the Supreme Court didn't respond to an emergency petition from state abortion clinics.
📝 What does it entail ?… According to the new law, doctors can't knowingly perform an abortion if there's a detectable fetal heartbeat, which it defines to include cardiac activity that usually appears about six weeks into a pregnancy.
👁️ Looking ahead… In May, SCOTUS agreed to review Mississippi's ban on abortion after 15 weeks of pregnancy. Those arguments are expected later this year, with a ruling in 2022.
📣🗣💬 This Week's Poll Responses
Yes – "When I order pizza locally the delivery fee is usually around $3 on average. Ordering thru a delivery service racks up an additional $3-5 on top of whatever I order. Then include tip (non-negotiable) and you are looking at the price of a whole extra entree added to my total. I'd rather spend the dollar in gas to just go get the food myself."
No – "During the early days of the pandemic and as cases continue to rise again, many of my favorite places to eat (especially small businesses) are only open to take out or delivery. I've saved money on the fees by paying for a "Dash Pass." I enjoy the convenience these delivery companies offer."
Sometimes – "I'm way more likely to take the time to see if the restaurant itself has delivery or go pick it up because of the extra fees as well as some sites practice of listing restaurants without their permission. But there are times where the convenience is worth the fee such as if I'm feeling unwell or if I'm working from home and timing for me to go is an issue."
+Note on Sample Size: We received 1,895 responses. 👏🥳 Some may have been lightly edited for grammar or clarity.
🛸🌄📲 Calling from the Future…
💃⚡🕺 It's Getting Hot In Herre…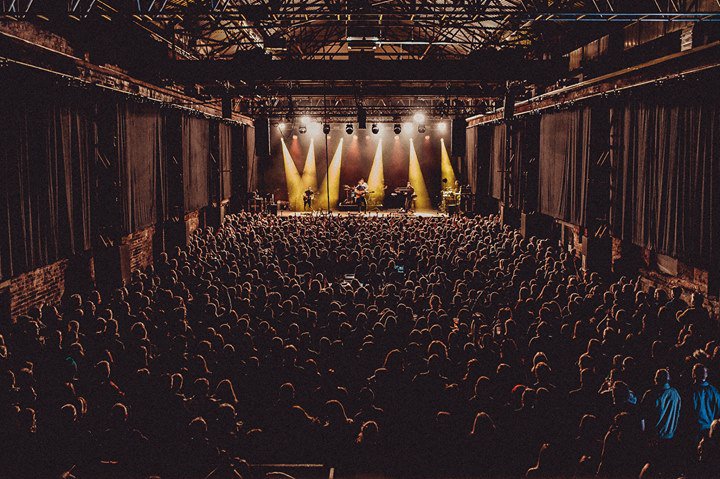 Image: SWG3
🎁 DONUT Headline: SWG3, a dance club in Glasgow, Scotland, is testing out a new system that uses the body heat of patrons to sustainably power the venue.
While idly mingling, the human body radiates ~100 watts of excess heat – which can add up fast in confined spaces, especially if dancing is involved.
BODYHEAT is a state-of-the-art heating and cooling system that transforms body heat from club-goers into a source of renewable energy.
Based on the number of people who set foot in SWG3 in a given year, the venue estimates the tech will save more than 77 tons of CO2 annually.
🤗 Daily Dose of Positive
🎻🎶 Mel's Traffic Jams
Image: PressDemocrat News
Mel Smothers went to sleep in his South Lake Tahoe home Sunday night under an evacuation warning due to the Caldor Fire. When he awoke on Monday, the warning had turned into an order.
The 74-year-old quickly packed up what he could and hopped in the car with his golden retriever. With only one way out of town, Mel soon found himself stuck in stand-still traffic from all directions.
It was roughly an hour in when Mel decided he needed something to help pass the time, so he reached for his violin.
💡 Dose of Knowledge
💞 It's Not About The Money
According to the latest U.S. data, in what percentage of opposite-sex marriages does the wife earn more than the husband ?
A) 20%
B) 30%
C) 40%
D) 50%
(keep scrolling for the answer)
🍩 Share The DONUT
Access exclusive rewards and even an all-expenses-paid round trip to Austin, TX, just for sharing this newsletter.
Simply:

1. Copy your unique referral link below.
2. Post said link on social media, drop it in your group chat, shout it from the rooftops, etc.
3. Watch the rewards roll in.
Ambassador Rewards and Progress →
💡 Dose of Knowledge Answer
C) 30%
The U.S. Bureau of Labor Statistics found 30% of wives in opposite-sex marriages earned more money than their husbands in 2020.
This disparity has held constant over the past decade after climbing steadily starting 40 years ago, per the NY Post.
🍩 Daily Sprinkle
"Everybody has plans until they get hit for the first time."
–Mike Tyson (b.1966)