Friday, September 3, 2021
Good morning and Happy Friday.
Enjoy the long weekend, we'll see you back here Tuesday. 😎🏖️
⏰🚀 Ready, Set, Go: Today's newsletter takes 3.87 minutes to read. (With the 360° view: +3.35 minutes.)
👇📰 Quick Bits
🎓 Step One: Graduate. Step Two:
Image: Giphy
🎁 DONUT Headline: Good news, soon-to-be-college-grads: your average starting salary should be the highest of any graduating class… well… ever.
According to a recent report from the National Association of Colleges and Employers, the average starting salary for the college Class of 2020 was $55,260.
That's 2.5% higher than the Class of 2019 ($53,889 ) and 8.5% higher than the Class of '18 ($50,944).
The top 10 majors and their average starting salaries. 👇
🤔 Notice anything strange about the list ?… Well, for one thing, they're all STEM jobs.
"Technical majors typically are the highest paid as they are usually the highest in-demand," explains Andrea J. Koncz, NACE research manager, told CNBC.
"Also, as a result of the Covid-19 pandemic and the greater need for technology in the new 'virtual world' that we live and work, the computer-related majors account for 4 of the top 10 paying bachelor's degrees from the Class of 2020."
✋ Yes, but… The cost of college keeps climbing. Seventy percent of college students say affordability impacted their fall 2021 plans.
Plus, federal student loan debt sits at $1.6 trillion. Many students are debating whether college is worth it – especially when it may no longer be necessary to get a well-paying job.
📝 The bottom line: While average starting salaries for college grads is going up, COVID, costs, and less international student applications are driving a downward college enrollment trend.
⚡ The Big Semiconductor Short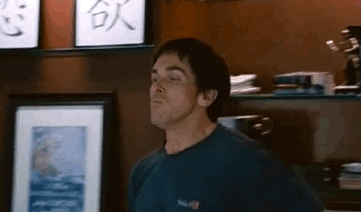 Image: Giphy
🎁 DONUT Headline: GM announced yesterday that it will idle nearly all its assembly plants in North America starting Monday due to a COVID-induced semiconductor shortage, adding or extending downtimes at eight plants in the U.S., Canada, and Mexico.
Ford also announced that it's scaling back production at its three truck plants starting next week – also because of the semiconductor shortage.
Semiconductors are critical for vehicles. A new car or truck can have as many as 100 of the chips on board as essential components in everything from engines and air bags to touch-screen displays. (What is a semiconductor ?)
📸 The big picture… Car shoppers returned in near-record numbers this year, but production limitations are denting vehicle availability for customers, a trend that's weighing on sales. In plain English: automakers physically can't make enough cars to meet consumer demand – and semiconductors are culprit #1.
Ford said in April that it expects the semiconductor shortage to cause production losses of about 1.1 million vehicles this year, for a bottom-line hit of about $2.5 billion.
GM cut production of roughly 325,000 vehicles in North America over the first half of this year because of the chip shortage.
Stellantis, Toyota, Volkswagen, Honda, Nissan, and Subaru have also adjusted production at some of their North American plants to properly allocate the chips.
Wards Intelligence estimates that overall auto vehicle sales in the U.S. last month fell 14% from a year earlier.
📝 The bottom line: The semiconductor chip shortage is expected to cost the global automotive industry $110 billion in revenue in 2021, according to a May forecast from consulting firm AlixPartners.
🍩 DONUT Holes…
A neighborhood in Queens; Image: Elana Glowatz
☝️ The remnants of Hurricane Ida brought massive flooding to the Northeast, resulting in at least 44 deaths across New Jersey, New York, Pennsylvania, and Maryland; Central Park experienced 3.15 inches of rain in one hour Wednesday evening, the highest amount on record.
🚀 The FAA is investigating billionaire Richard Branson's July flight to the edge of space after it apparently veered off course during its brief journey; the move grounds Virgin Galactic's SpaceShipTwo until the investigation is complete.
📉 New U.S. jobless claims fell to a pandemic seasonally-adjusted low of 340,000.
📽️ Marvel's first Asian-led superhero film, "Shang-Chi and the Legend of the Ten Rings," hits theaters today, where it will remain exclusively for 45 days before coming to Disney+.
💰 Executives of hedge fund Renaissance Technologies will personally pay ~$7 billion in back taxes, interest, and penalties to settle a long-running dispute with the IRS. The tax settlement may be the largest in history.
+Bonus: The 2021 Comedy Wildlife Photography Finalists.
+Double Bonus: Good news, Drake fans. Certified Lover Boy dropped at midnight.
🔥 The Hot Corner
💬 Heard Through the Grapevine… China ordered broadcasters to shun artists with "incorrect political positions" and "effeminate" styles and criticized the country's entertainment industry for "severely polluting the social atmosphere," according to a Reuters report published yesterday.
The move is part of a broader push from the Chinese government to assert its dominance over culture and limit the influence of certain celebrities.
🔢 Stat of the Day… Shares of companies that went public via SPAC have dropped 25% since mid-February, totaling losses of ~$75 billion.
📖 Worth Your Time… Gen Z Is Developing Unexplained Tics After Going Online, And Doctors Are Concerned
🗣👂 Dose of Discussion
Quick Reminder: Starting yesterday and concluding today, we'll be examining a pair of laws in Texas that have emerged as flashpoints for the U.S. political landscape as a whole – and they're right in our own backyard (DONUT HQ is in Austin, TX).
Yesterday, we covered a Texas law banning abortion after roughly six weeks of pregnancy that came into effect September 1.
In part two, we're taking a look at…
🗳️ Texas' New Voting Laws
Image: Tamir Kalifa/Getty
🎁 DONUT Headline: The Texas legislature approved Senate Bill 1 almost entirely along party lines Tuesday, capping off a 38-day saga that saw more than 50 state Democrats flee to Washington, D.C., in July to deny Republicans a quorum.
Democrats eventually returned to Texas last month after three of their members broke ranks, allowing the state House of Representatives to advance the legislation.
📝 What's in the bill?… The final version of SB1 includes:
New regulations for voting hours leading up to and on election day
A ban on the distribution of unsolicited mail-in ballot applications
New ID requirements for voting by mail
Enhanced protections for partisan poll watchers
A new process by which voters can correct technical errors in their mail-in ballots
New monthly reviews of the state's voter rolls to identify noncitizens
A ban on drive-thru voting
New rules guiding voter assistance
🗣️ The arguments:
Proponents of the legislation say the changes will help prevent voter fraud and restore public faith in election security.
Opponents argue the bills would suppress votes, especially those of minorities, and are a response to false claims of fraud in the 2020 election.
👁️ Looking ahead… Senate Bill 1 currently sits on the desk of Gov. Greg Abbott (R), who published a statement saying he looks forward to signing it. Abbott did not indicate when that might be.
🛸🌄📲 Calling from the Future…
🦵⚡ That Healing Feeling
Image: National University of Ireland, Galway
🎁 DONUT Headline: In a new study, researchers in Ireland discovered a way to switch on and speed up healing for people with tendon damage using an implantable device powered by walking.
The study investigated whether electric stimulation therapy, when combined with exercise, would show promise in treating people with tendon diseases or sports-related injuries.
Researchers used an implantable device embedded with a fabric-like mesh that produces electricity when stretched or put under mechanical pressure. Fun fact: the mesh is made using nano-fibers one-thousandth of the thickness of a human hair.
The electrical stimulus generated by the device acts as a power switch that turns on certain regenerative processes in the damaged tendon.
The takeaway: "These devices are cost-effective, relatively easy to implant and may pave the way for a whole new class of regenerative electrical therapies," said Dr Manus Biggs, lead researcher.
🤗 Daily Dose of Positive
🥇 Furry Friends Friday: A Paralympic Pup
Images: Instagram
Anastasia Pagonis is a natural in the water. The seventeen-year-old broke the world record for the 400m freestyle twice in the paralympic swimming trials, and won Team USA's first gold medal in Tokyo last week.
But it wasn't always this way. Anastasia struggled with depression and PTSD after going completely blind at 14 – and it was during that time when she first met Radar, her new guide dog and best friend.
"He's changed my life," Anastasia shared. "I didn't have any freedom or independence before him, and now that I have him I feel like a totally different person."
When she's not training or competing, Anastasia is using her social media platforms to help change the way others view blind people.
💡 Dose of Knowledge
🐈 Cat's Out Of The Bag
Which of the following is not a breed of cat?
A) Tabby
B) Persian
C) Siamese
D) Bengal
(keep scrolling for the answer)
🍩 Share The DONUT
Access exclusive rewards and even an all-expenses-paid round trip to Austin, TX, just for sharing this newsletter.
Simply:

1. Copy your unique referral link.👇
2. Drop said link in your roommate group chat, send it to a family member or two, rent a billboard truck and drive around, etc.
3. Watch the rewards roll in.
Ambassador Rewards and Progress →
💡 Dose of Knowledge Answer
A) Tabby
A tabby cat is a domesticated cat of any breed with a coat that features distinctive stripes, dots, or swirling patterns. (The different types of patterns.)
🍩 Daily Sprinkle
"Experience is simply the name we give our mistakes."
–Oscar Wilde (1854-1900)